Process & Example
Generally, Tax-Loss Harvesting follows these steps:
1. An underperforming investment is sold.
2. That sale (loss) is used to reduce taxable gains and offset a portion of an individual's income.
3. The money from the sale is reinvested into different securities for the future.
The following example is from the Schwab Center for Financial Research and does a great job of showing the impact Tax-Loss Harvesting can have for one's potential tax savings:
"Let's say you recognize a gain of $20,000 on a stock you bought less than a year ago (Investment A). Because you held the stock for less than a year, the gain is treated as a short-term capital gain and will be taxed at the higher ordinary-income rates rather than the lower long-term capital-gain rates, which apply to investments held for more than a year.
At the same time, you also sell shares of another stock for a short-term capital loss of $25,000 (Investment B). Your $25,000 loss would offset the full $20,000 gain from Investment A, meaning you'd owe no taxes on the gain, and you could use the remaining $5,000 loss to offset $3,000 of your ordinary income. The leftover $2,000 loss could then be carried forward to offset income in future tax years. Assuming you're subject to a 35% marginal tax rate, the overall tax benefit of harvesting those losses could be as much as $8,050. Let's take a look at how this works.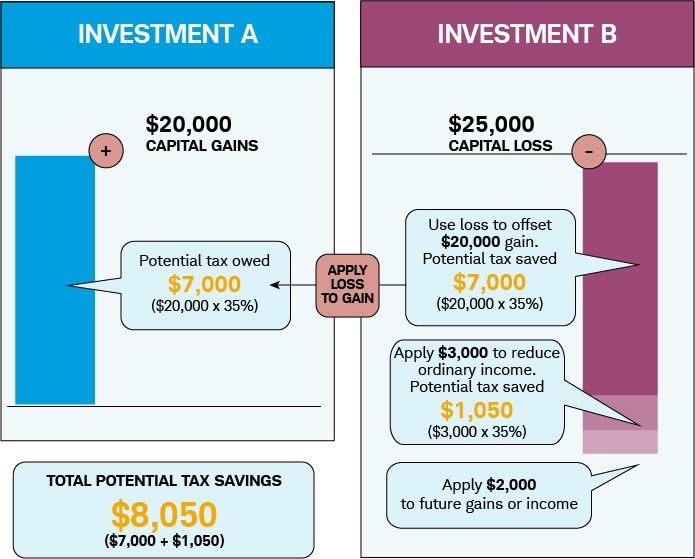 By offsetting the capital gains of Investment A with your capital loss of Investment B, you could potentially save $7,000 on taxes ($20,000 × 35%). Because you lost $5,000 more than you gained ($25,000 – $20,000), you can reduce your ordinary income by $3,000, potentially lowering your tax liability an additional $1,050 ($3,000 × 35%) for a total savings of $8,050 ($7,000 + $1,050). You could then apply the remaining $2,000 of your capital loss from Investment B ($5,000 – $3,000) to gains or income the following tax year."
Source: Schwab Center for Financial Research.